Electrify your advertising results with CampaignStorm
Small and Medium sized businesses are at a disadvantage when it comes to creative marketing. After working for years with advertisers in traditional media (and their ad agencies), I believe there is a creative gap to be filled in the creation and implementation of effective marketing campaigns for small to medium sized businesses.
Businesses of this size typically don't have a dedicated marketing person and those tasks end up falling to the business owners or (store managers) who bring more value and profits to the company by running the business, and not by having to deal with all the aspects required to create and implement an effective marketing campaign designed to bring customers through the door.
Large companies don't have this same problem. The corporate board doesn't deal with marketing campaigns or positioning and branding. They have a budget to hire expensive ad agencies with multiple departments and personnel to handle marketing strategy, creative, and production on their behalf. If sales go up, the agency gets to keep the account. If sales go down, they get replaced by another big agency who gets to cash a big check. Love or hate corporate campaigns for McDonald's, Nike, or <insert large beer company here>, they definitely have ad agencies staffed with dedicated creative departments that produce both amazingly good (and appalling bad) marketing campaigns.
Don't rely on Media companies to create campaigns that market your business. Media outlets are in the business of selling Advertising (not Marketing) and there is most definitely a difference. The advertising and sales departments of Media companies are comprised of sellers (not creatives) and their job is to make sure all the advertising spots and spaces are filled with businesses who want to share their messages with media company's audience. Sure, they'll help write and produce some basic ads, but even their best account executives are more focused on filling in the blanks and meeting their sales quotas than they are in investing the one-to-one time with clients required to develop effective marketing messages that make a real impact on their business. As a result, their ads look and sound generic to the point of being able to simply cross out one client name and insert another without anyone really noticing.
Smaller Ad Agencies that serve SMBs aren't the answer (Don Draper is make believe).
Ever watch the television series Mad Men? Amidst all the drama, drinking, smoking, and womanizing was the story of Don Draper, the genius ad man that could come up with brilliant advertising campaigns on the fly following five martini lunches and afternoon trysts with wives of clients. There were some incredible pitch sessions on that show and I loved watching them (you should check them out too.)
The fictional character of Don Draper was an amalgamation of at least four legends of golden age advertising, including George Lois who has personally referred to Draper as a "talentless bum".
The golden age of agencies ended a long time ago. These days when ad agencies (with a few notable exceptions) aren't sacrificing client results in the pursuit of self-aggrandizing awards — for which they nominate and vote for themselves — their Media Buyers are busy cajoling, threatening, and berating the value of the very media companies their clients rely upon for an audience of prospects.
In the years since George Lois, Albert Lasker, and (my personal favorite) Stanley Arnold, most ad agencies have embraced the role of strong arm negotiators tasked with beating down the ad rates of media companies as Ad Buyers, forsaking their once elevated positions as creative gurus, marketing strategists, and campaign creators. In return, most take a generous retainer from the advertising client and claw back 15% of the money they invest in the ad buys they made with those media companies on rates for which they already demanded (some say blackmailed) discounts for being included on the ad buy in the first place.
Is this how you would run your company and treat your customers and vendors? Put yourself in the shoes of the media company; if customers came to your store and negotiated down the rates of your products and services by insulting their quality and effectiveness, would you be more or less likely to go the extra mile to service their needs?
They're paying you the bare minimum price and don't respect your product, so you're likely to have lost respect for them as a client and will provide them the bare minimum service.
In the end, this means your ads will miss out on premium positions, added promotional elements, and the rewards and benefits that are going to advertisers who recognize the value of putting a message in front of that media company's audience and are building direct relationships with their media sales reps and station managers.
CampaignStorm provides owners of small and medium-sized businesses an economical option for the creation and activation of effective marketing and advertising campaigns
CampaignStorm was formed to work directly with the owners and managers of small to medium-sized business who already recognize the value of advertising on Radio, TV, and in Print, but have a hard time convincing themselves to continue to invest in these mediums because of diminishing ROI, inadequate lead tracking, mundane messaging that sounds like every other business on the air, an ever increasing number of emerging platforms vying for their advertising dollars, and the lack of solid marketing advice and strategy from their media account executives whose only advice when taken to task for the lack of results delivered by the latest series of ads frequently seems to be "you need to spend more money so you can run more ads".
You don't need to buy more ads,
you need to buy more

effective

ads.
When CampaignStorm is working directly with an advertising client, we are also available to work with that client's associated ad agencies as well as their favored media companies and account executives to help them get better advertising results by envisioning and activating "campaign thinking", injecting solid client marketing strategy into the ads they are already buying on their platforms, and hold these entities accountable to their word on properly executing campaigns and delivering agreed upon results.
CampaignStorm serves as the Marketing Department for your small to medium-sized business. Advertisers are already spending money on bad ads, by investing just a few more dollars and a lot more creative development they could be investing in campaigns that generate the results and leads that are key to growing their business. Better results means more profits for the advertiser and more renewals for the media companies.
The #1 excuse businesses give for not renewing an advertising contract is "it didn't work". When ads don't work it's likely because the wrong message was being delivered to their audience, the message itself lacked clarity, there was a weak (or non-existent) Call To Action, and/or there was no reliable mechanism in place to track the results being generated. (Were specific desired results even discussed and agreed upon in advance of the ads being produced and run??)
If you don't know where you're going, how will you know when you get there? CampaignStorm's results-driven process includes working directly with the business owner to develop a custom marketing strategy roadmap that makes the development of advertising messages a snap because every decision can be weighed against the roadmap — does the message in the ad get you further down the agreed upon path or not? Your roadmap can be kept private for making decisions internally or it can be shared with your account executives at agencies and media companies to help them self-select on whether to submit a pitch to your business based on the roadmap criteria.
The CampaignStorm team can even review proposals on behalf of their client businesses and act as a filter for adhering to the roadmap. Does the pitch help move the client down their charted path? If so, the proposal gets passed to the business owner for consideration. If not, the account executive receives feedback on how to better meet the client's criteria and has the chance to adjust and resubmit. It's an effective way for business owners to reduce interruptions from lazy "pitch of the week" salespeople while making sure qualified account executives who've demonstrated the effort and initiative to help the client grow their business get a fair shot at having their proposals considered.
Deciding on which advertising medium to invest in is only half (actually, less than half) of the process. The success of your marketing campaign results are going to hinge on the activation elements you've built in to your campaign. You bought the ads, the media company ran the ads, what tools do you have in place to capture and track the leads resulting from the ads you've run. Most media companies have no interest in helping their advertisers with this part of the process — but this is where CampaignStorm really shines.
CampaignStorm Services like custom landing pages, customer surveys, autoresponder messages, email list management, digital downloads, web videos, and more can track and directly attribute lead response to the advertising outlets running your messages.
"Half the money I spend on advertising is wasted; the trouble is, I don't know which half."

John Wanamaker, American Merchant and Marketing Pioneer
Philadelphia retailer and businessman John Wanamaker is famously attributed with the quote above. He was born in 1838 and died in 1922, so he would have made this statement sometime within his 84 years living on this planet. It's over 100 years later and people are still referencing this quote. How come we haven't come up with a better answer over a century later?
CampaignStorm is the answer.
If you feel the same frustration John Wanamaker did when trying to calculate the ROI on your advertising investment, contact CampaignStorm for a free consult to see if there is an opportunity for us to work together and get your marketing and advertising performing at peak efficiency and creativity.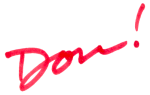 Don The Idea Guy
Professional Brainstormer, Marketing Geek, and Founder of CampaignStorm